"Sweet Paint and City Art"
A gallery exhibit of all new oil paintings by Bay Area Artist Riki R Nelson, will Open at Peabody Fine Art and Frame in Menlo Park Ca. Friday July 8th 2011
This collection of all new work was done in two suites.
"Wild Cherry Hearts", is a grouping of still life paintings of candy and other confections. It was inspired by the artist's early memories of a 1960's candy store and is a celebration of the simple yet profound joys in life.
"City Art", is comprised of several unique interpretations of downtown Menlo Park, and the Stanford University Campus. Subjects include Hoover Tower and the British Bankers Club restaurant and lounge, it focuses on the overlooked beauty, life and uniqueness of the historic buildings and cityscapes around us.
Several of the paintings come with poetic short stories by the artist to further share the artist's experience with the viewer, here is an excerpt that accompanies the "Wild Cherry Hearts" paintings:
"...In summer, they would string paper lanterns along the docks, (we almost always came by boat). I remember watching the sun set over the lake, multicolored Chinese lanterns twinkling in the twilight. My Grandfather stood tall on the rolling dock, his great arms crossed in the warm summer air and slipping light. Smiling, he watched silently as we ran between the dimensions of the real and imagined, as the spirits of the night closed ranks around us...".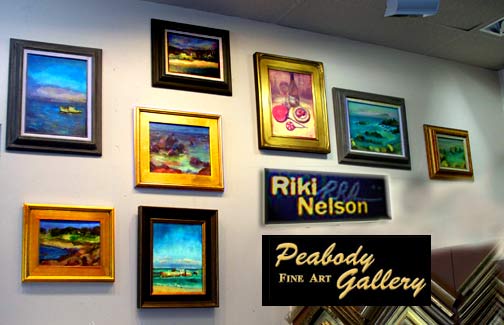 Exhibit Web Site: http://www.riki-arts.com/art-2011/shows-peabody/art-show-peabody-july-2011.html

Peabody Gallery
603 Santa Cruz Ave. Menlo Park, CA 94025
(At the intersection of Santa Cruz Ave. & El Camino Real)
Peabody Gallery Web Site http://www.peabodygallery.com)
Gallery Phone: Ruth at 1-650-322-2200
or Sharon at 1-877-778-7546
Return to top of page and Art