"A Crimson Sunrise Over Hoover Tower"
12" x 9" oil on Linen, by San Francisco Bay Area Artist, Riki R Nelson
About the creation of "Crimson Sunrise Over Hoover Tower" which will be part of an exhibit at Peabody Fine Art in Menlo Park starting July 8th, 2011.
These paintings, are an expression of my impression of the community; of it's history, of what makes it special and unique.
The Stanford Campus, is beautiful. Historic towers rise imposingly, their shadows loomimg across perfectly manicured lawns and gardens threaded like bright green ribbons throughout the grounds. Plaza size fountains shoot white water high into the air, or trickle it gently over chiseled stone artistry. But that is just a back drop, for an institution filled with some of the finest most dedicated young minds in the world, and it has been so, for more than a century.
I planned on creating a bright clear sky and shiny morning in this painting.
But as I started to "feel" the subject, I sensed the rich and powerful history behind the lawns and structures; The glory of this place, the deep spiritual meaning it has had for so many, for so many decades. The power of true genius, the victory of profound achievement- generation, after generation. The sense of boldness was almost overwhelming.
The rising potential of a boiling red sky, builds with the power of the luminous new dawn, and begins another era of blinding brilliance that will, once again, walk these halls, as it has for the last 120 years.
This painting is meant to express this experience.
As an artist, I have my own vision, that is separate from the actual photos I use as reference, the intangible elements that defy words, but can only be expressed - hopefully- with imagery.
see more work by this artist
Riki R Nelson
Part of an exhibit at Peabody Fine Art Gallery in Menlo Park.
exhibit website http://www.riki-arts.com/art-2011/shows-peabody/art-show-peabody.html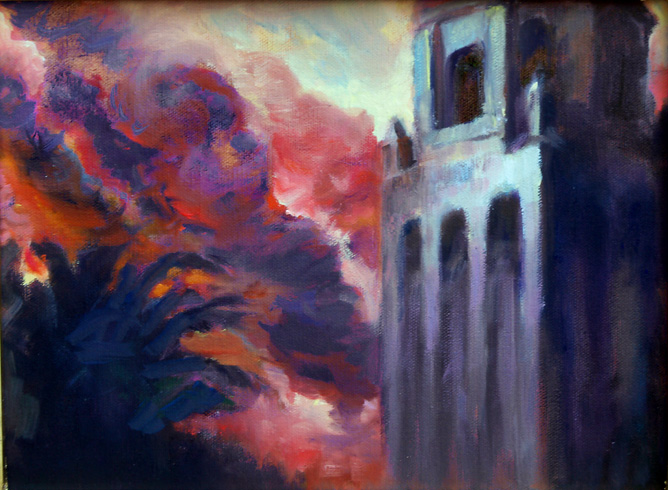 "Crimson Sunrise over Hoover Tower"
Stanford University
9" x 12" oil on linen