Online Preview of new major works, oil paintings by artist Riki R. Nelson
SNEAK PREVIEW ONE EVENING ONLY:
TOP LEFT - This painting will be on Display at Steamers Grill in Los Gatos from 3:30 to 6:00 pm, Fri. Sept. 3rd

GALLERY EXHIBIT OF NEW WORK - ARTIST RECEPTION
Artist Reception Gallery Exhibition of New Art at Los Gatos Company Reception, Oct 9th
including NEW small Abstract Impressionist paintings of Los Gatos, Santa Cruz, San Francisico, and Monterey
NEW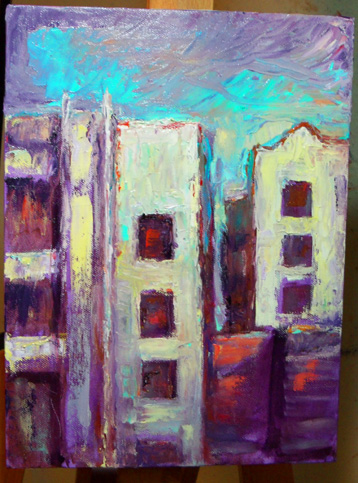 9" x 12" oil on linen, "My View from the Hotel, San Francisco" this painting will preview with a body of this artists new abstract work, in Oct. at the Los Gatos Company gallery.
SEE LEFT - Finished Painting - August 7th - This major work is finished the photo does not do justice to the light, or the the details, but you get the "picture". Exhibit details, will be posted soon.
"'Contemplating Cerino' the Halloween Ball at Steamers Grill"
24 in by 36 in oil painting (on stretched linen)
To Receive email updates:newpaintings@riki-arts.com main online gallery www.riki-arts.com/main-gallery-page.html
Close up detail photo of portrait portion of painting, below