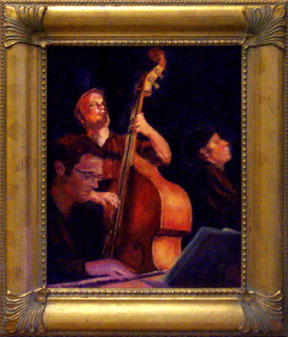 This painting is part the unveiling of a never before seen body of Riki Nelsons latest Jazz Oil paintings - at Peabody gallery Of Los Gatos,
A very special collection......
In addition to the light outdoor style of paintings this artist is known for,
this new collection will include a new body of ground breaking paintings of night club musicians, in the tradition of realism, but with a decidedly contemporary edge.
These pieces are not to be missed...
Peabody Fine art, Los Gatos. For more information please contact:
ruth@peabodyfineart.com
11 North Santa Cruz Ave.
(at Main St.) Los Gatos Ca 95036 - Phone 408-395-3440 - Web Site www.peabodyfineart.com
More on the art in this collection:

This most recent suite of original composition oil paintings by artist Riki Nelson, depict scenes of the Jazz musicians as seen in Bay Area Jazz Clubs, as well as new scenes from last summers Jazz on the Plaz concerts in Los Gatos



Featuring the latest Jazz Oil Paintings by
Bay Area Artist
- Riki R. Nelson -
Now at
Peabody Fine Art Gallery
of Los Gatos,
Peabody Fine Art Gallery
11 North Santa Cruz Ave.
(at Main St., across the St. from Carrie Nations)
Los Gatos Ca 95036
- Contact info: Phone 408-395-3440
email ruth@peabodyfineart.com
* * Look for a new collection of Jazz Paintings in Peabody Gallery Los Gatos in the Spring 2006
Artist's statement about the collection of Oil Paintings currently being created


The most recent works of realism by Bay Area artist,

Riki R. Nelson,
in a premiere Bay Area Fine Art Gallery.
-- Map link to Peabody Gallery--
11 N Santa Cruz Ave
Los Gatos, CA 95030-5916


ART EXHIBIT: Exhibit is currently' at Peabody Gallery Los Gatos.
Riki R. Nelson is one of Peabody Galleries' hand picked stable of fine contemporary Artists.
Need a place to stay and play in Los Gatos? Our favorite hotel is the Toll House Hotel, just a couple blocks up from Peabody Gallery and downtown.