"Stories of Santa and The Great North", by Riki R. Nelson 2017
"The Last House of Christmas"
Santa is somewhere in North America, he just visited his last house and filled his last stocking for the night. This is one of his favorite magical places. He chose the Last House of Christmas in this particular place, because it's where The Spirit of Christmas is strongest. It not only has the pristine icy beauty of deep winter, but possesses the rare magic of the Twin Rivers. The Twin Rivers are mystical waters. When the reindeer divide and drink from both sides of the rivers at the same time, it taps into the Spirit of the North, and gives them a magical boost to finish their flight around the globe. In this particular painting, you can see Santa, enjoying a quiet moment to take in the beauty, magic and wonder of the world at Christmas as dawn breaks over the snowcapped mountains. You might have noticed that even though Santa has delivered all of his presents for the night, his sack still has gifts and candy; this is because the generosity of Santa's magic always keeps his gift bag filled, it will never ever be empty.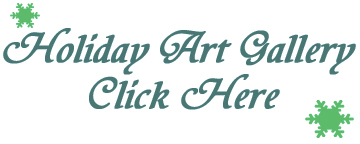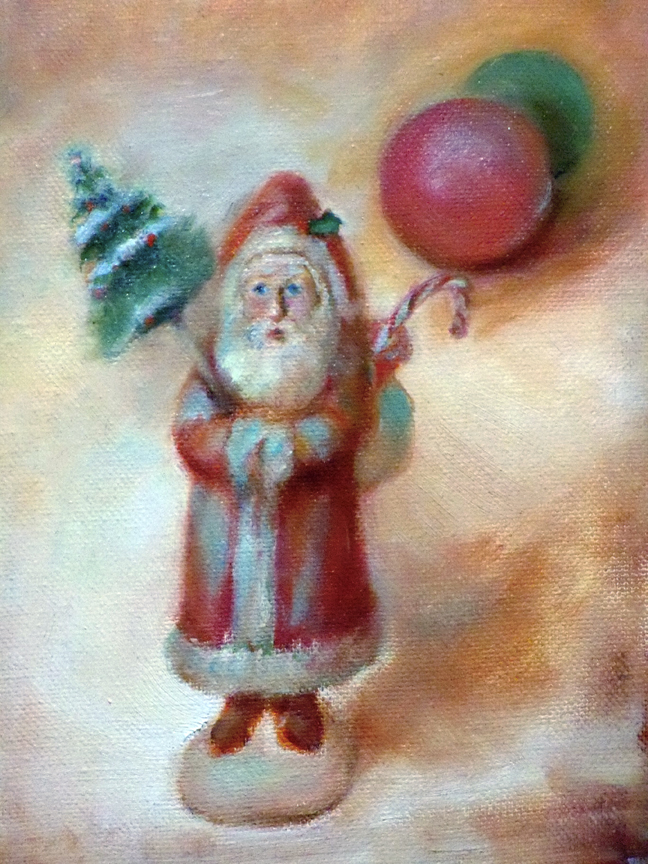 "Victorian Santa", "Bubble Light Santa" "1920's Santa' "Santa W/Snowman" "The Last House of Christmas" and other Santa pieces go with this story.


Santa can do and have almost anything. He has dominion over time and space and the ability to alter matter at a whim; but the one thing he can never do, the one thing he can never have, is the ability... to stay. To be with the children he so loves on Christmas Morning. He can sense "Christmas Joy", (the source of much of his magic) but he can never sit next to a glowing Christmas tree and hand out beautifully wrapped boxes to his "little ones" (as he calls them, for to Santa, all children are his), as they squeal with delight, their dreams coming true one gift at a time, while colored papers tear and shiny ribbons fly.

One Christmastime, Santa was feeling the weight of missing the best of what his generosity and compassionate spirit created every year. He wandered at night in the Haunted Wood, the snow covered pines sparkled like a billion diamonds, bathed in the starlight of the Great Frozen North. He wound his way through snow laden trees and twisted paths while a growing cold wind whistled and moaned. Santa hadn't realized that his friend, Father Winter, had been walking beside him. "How long have you been there my friend?" he asked Winter with a corner smile and twinkle in his eye. "OOOhh" said Winter in a low booming voice, "since about the third or fourth sigh I think." Winter Smiled, he appeared as a tall thin snow man, only shaped like a very tall thin old man. The lines around his eyes sparkled and crackled like ice crusted snow as he smiled. He wore a long pale robe and walked with a staff made from a giant icicle. "I know what burdens you Santa. I think I may have something that could help." From the sleeve of his voluminous robe, Winter pulled an ancient wooden box. He handed it to Santa. "Just because the children are not allowed to see you on Christmas morning, doesn't mean you are not allowed to see them." Santa opened the box. "OH! HO, HO, HO" Santa chuckled, "I know these! Some old, some new, some…not yet to be seen…" the box contained Santa Claus ornaments, some ceramic, some mercury glass, some of carved wood, some not of this time, but from a time to come, spanning hundreds of centuries, and all depicting Santa. They were magical ornaments, which would allow Santa, for a time, to take their shape and size. Santa smiled at Winter from under his red velvet hat and bushy white eyebrows. He winked, put a white gloved finger next to his noise, and disappeared, leaving only a sparkling swirl of starlit snowflakes dancing in the polar night.

When Christmas morning finally arrived, and Santa had delivered gifts to the last house of Christmas Eve, he gently placed a little Santa beneath the tree, and instantly he became the ornament. Dawn broke, and children came tumbling down the stairs in their night cloths, all smiles, wonder and squeals of anticipation. Santa finally got his Christmas wish.

Now, every year Santa takes the shape of a one of his little ornaments. Sitting on a table or beneath a tree to finally be a part of what he creates for children all over the world. He always leaves an ornament behind, to bestow blessings on the families he visits. It is said, that as long as you have one of these ornaments, you are guaranteed wondrous Christmases and that Santa will some day visit again.
So if you have a Santa ornament, that has been handed down through generations, or that no one knows where it came from, be extra good, because you never know when you will have an extra special guest for Christmas.

Copyright Riki R Nelson 2015